Freyaday 12/20/19
A joyous Yule to everyone who sees this! May all Blessings come to you as we turn the Wheel into the 2020s…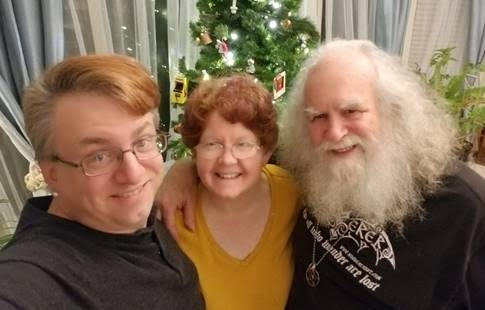 I stayed with Amy and Jonathan/Jeannie from Dec. 9-15. We got along great, enjoying good meals and good company. I caught up on some of my favorite TV series (The Mandalorian; Strange Angel; His Dark Materials; The Watchmen), and then on Sunday the 15th I drove 230 miles (4 hours!) up to the Aquarian Tabernacle Church in Index, WA, northeast of Seattle. Archpriestess Belladonna LeVeau and Archpriest Dusty Dionne of ATC have welcomed me warmly and hosted me graciously, with a nice room and office I can work in, including a field golden retriever named "Honeybear" and two lovable cats to lay on my bed and keyboard.
As I described in my previous Journal entry, I drove on up to Camano Island on Monday the 16th to meet with Serious Israel, returning to ATC the next day. A marvelous meeting of two old Wizards!
Back here at ATC HQ, Belladonna, Dusty and I have been having deep conversations around the huge kitchen table, in the car driving to gigs, and soaking in the hot tub. ATC and CAW have been allied groups since the late '70s, when I got to know ATC Founder Pete Pathfinder Davis (1937-2014), and shared our CAW founding documents with him as he was designing the legal structure of ATC in 1978-'79. Currently, my Grey School of Wizardry is a "sister school" with ATC's Woolston-Steen Theological Seminary (WiccanSeminary.Edu).
Bella is a member of the Grey Council, and the absolute Matriarch of the ATC—which is set up as a Corporation Sole, with an impressive 35-40 affiliated organizations chartered under their umbrella group exemption. They conduct an extravagant "Spring Mysteries Festival" event every year over Easter weekend, drawing primarily from the Greater and Lesser Mysteries of Eleusis, but also a bit from the Descent of Inanna. I attended this a few years ago, and I highly recommend it!
Right now, my own main project and concern is "2020 Vision: The Awakening" (http://2020visionawakening.com/). I am reaching out to Pagan leaders, Elders, publishers, festival organizers, members of the Grey Council, and just, well, everybody—to promote a massive Pagan voter registration drive and adopt "2020 Vision: The Awakening" as a major theme for events in the coming year. Please forward this link to everyone you know!
Everyone I'm talking to—including Bella and Dusty—is enthusiastic and eager to get onboard with this. This could be bigger than the Harmonic Convergence of Aug. 16-17, 1987, when millions of people joined in a global meditation for world peace and the end of the Cold War.
At that time Soviet leader Mikhail Gorbachev led a political movement for reformation within the Communist Party he called perestroika ("restructuring"), with a policy of glasnost ("transparency") political reform. Perestroika precipitated the Revolutions of 1989 and the dissolution of the Soviet Union. The fall of the Berlin Wall on Nov. 9, 1989 marked the fallingof the Iron Curtain. The fallof the inner German border took place shortly afterwards. And thus ended the 40-year Cold War. Just like magick!
The 2020 Vision project includes an invitation to come to the website and enter your own Vision for the 2020s. The more we can envision the coming decade according to our brightest hopes rather than our darkest fears, the greater the probability of manifestation (i.e. the collapse of the probability field; magick meets quantum physics!)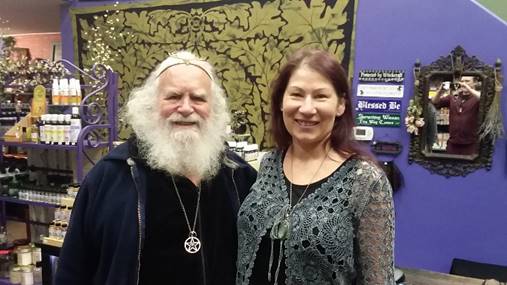 Wed. evening the 18th I did a talk and book-signing at Mystic Sanctuary, in University Place, WA 98466. This was an hour and 45 min. from Index, so we had a lot of time to talk in the car. At my talk, a lovely woman showed up who I thought looked somehow familiar. Afterwards she came up and let me know she was Jezebel Blessing, who had lived with our Ravenheart Family at Shady Grove in the early 2000s. I couldn't believe how different she looked today, having lost a lot of weight! It was good to see her, and we reminisced a bit over the great parties we used to throw—particularly our annual Addams Family Reunion Party.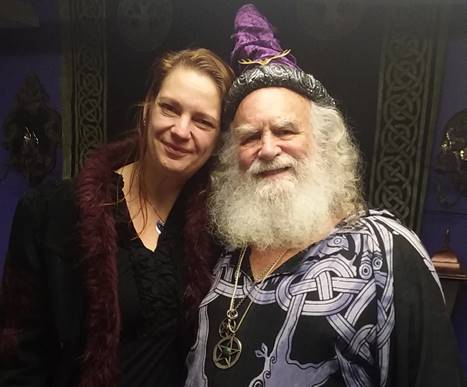 Last night (Thurs. the 19th) I did another talk and book-signing at Edge of the Circle Books in Seattle, WA 98105, only an hour from ATC. And this weekend I'll be appearing at the Seattle Psychics Association's Big Psychic Fair in Seattle, I'll be doing Tarot readings in my usual Wizardly regalia, but from 2pm-6pm I'll be wearing a beautiful green and white crushed velvet Santa suit, as the Holly King—giving out authentic Norwegian paper heart baskets with Yuletide blessings, and posing with people for photos.
My business partner Jay has been adding clothing and mugs to our Mythic Images website in time for holiday shopping. We have a lot more designs to add, but there is a nice selection of Millennial Gaia items already available. https://www.themillennialgaia.com/product-category/clothing/
For previous Journal entries and more, be sure to check out my personal website: www.OberonZell.com. There are links there where you can buy my books, statues, jewelry, posters and more.
#pagan #wizard #ozpatreon #iampaganandivote #2020visionawakening https://www.themillennialgaia.com/