Tiewsday 11/12/19
Samina and I had a blast today! We did the "Avengers: Damage Control" virtual reality experience at The Void in the Venetian Casino in Vegas. Wow—was that ever awesome! It's designed for a group of 4; we chose our suit colors, then got outfitted with vests and helmets. When we looked at each other in VR, we were all completely suited as Wakandan Avengers! We could even see our hands and manipulate objects. Our suits allowed us to absorb energy from attackers, and then blast it out from our palms. During the course of the adventure, we encountered Dr. Strange, Spiderman, Ant-Man and Wasp; and battled Ultron alongside Thor, the Hulk, and other Avengers. What a rush!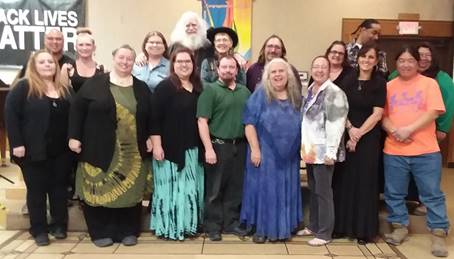 I flew from San Francisco to Vegas last Thursday the 7th, for Pagan Pride Day. Friday evening was a welcoming dinner at the local UU church, which often hosts Pagan activities. I was delighted to see Selena Fox of Circle as another out-of-town guest. But sadly, Belladona Leveau of ATC, who was also booked, was stuck in Salem, MA and unable to make it.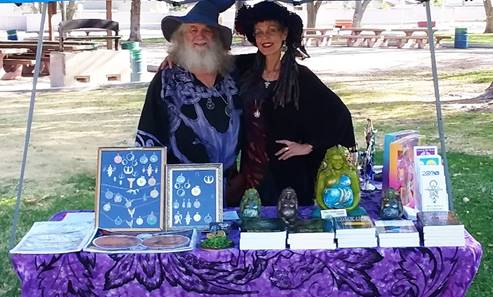 Las Vegas Pagan Pride was held all day Saturday at Paradise Park. I believe around 300-400 people showed up, I gave a talk on my "2020 Vision: Awakening" project, and sold a lot of statues, jewelry, books and posters at my vending table, which I shared with Samina. Selena presented several talks and rituals. There was drumming, belly dancing, and illusion magic (this is, after all, Vegas, baby!). Afterwards the core groups of about 15 of us commandeered the favorite pub for dinner and drinks.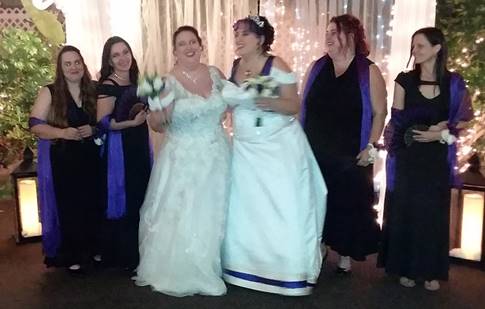 Sunday evening was the long-awaited wedding of my dear friends Morganne Baum and Marjorie Ivy, in the Garden Room of Rainbow Gardens. I think it was the most beautiful wedding I've ever attended. The Priestess conducted a lovely Pagan handfasting ceremony, and the vows moved us all to tears. Both sets of proud parents were there, and the fathers walked their daughters down the isle.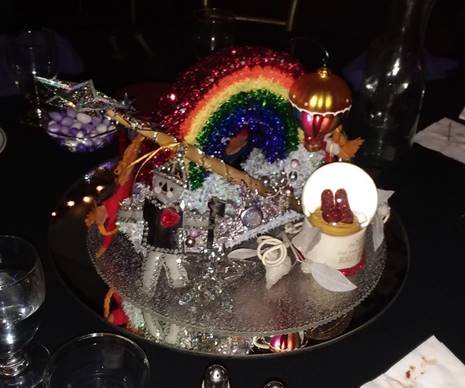 Afterwards we were all directed for the dinner to our assigned tables, each with a fairytale theme and centerpieces (all crafted by Morganne). I, of course, was seated at "The Wizard of Oz" table, with all the Vegas stage magicians. Michael Round demonstrated several cool tricks with cards and balloons, and we had a marvelous time.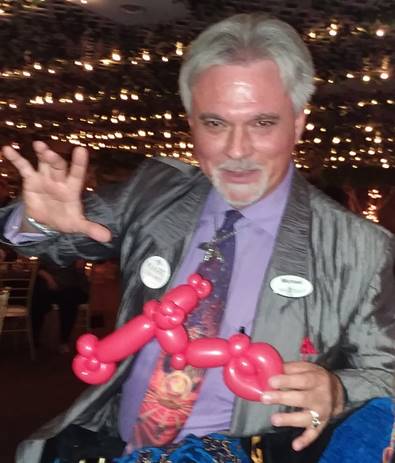 Last night I was a guest on the "Lunatic Monday" Podcast with Laura Gonzalez. We'd met this past July at Circle's Pagan Spirit Gathering, and really hit it off. She does a trilingual show in English, Spanish, and Portuguese.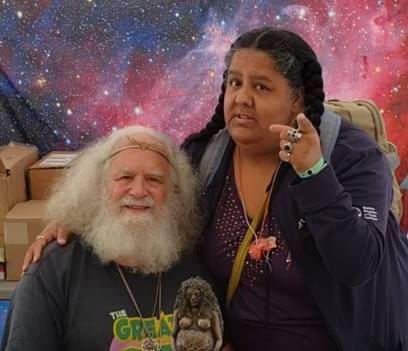 Tonight we're having a barbeque dinner at Samina's with George, Jessica, and Haleigh Isbill. Haleigh is an editor, and she's working with me on several of my books that are mostly written, but need final editing.
For previous Journal entries and more, be sure to check out my personal website: www.OberonZell.com. There are links there where you can buy my books, statues, jewelry, posters and more.
#pagan #wizard #ozpatreon #iampaganandivote #2020visionawakening