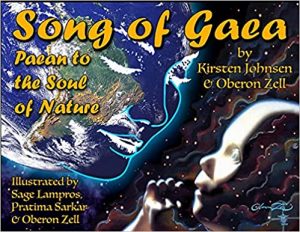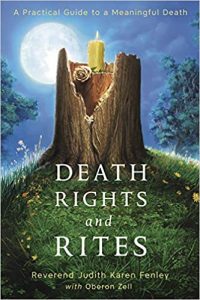 The Wizard and the Witch:
Seven Decades of Counterculture, Magick & Paganism
by Oberon and Morning Glory Zell & John C. Sulak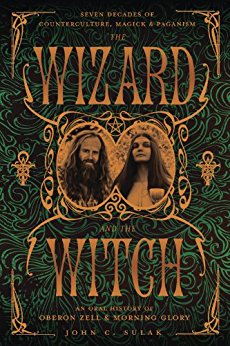 This is the stranger-than-fiction story of two soul mates who rejected the status quo and embraced higher ideals . . . and had a whole lot of fun while they were at it. Reclaiming Pagan as a spiritual identity—and living in an open marriage for over four decades—Oberon and Morning Glory Zell truly embody the freedom to think, to love, and to live.
Telling the stories of their singular lives in this unique oral history, Oberon and Morning Glory—together with a colorful tribe of friends, lovers, musicians, homesteaders, researchers, and ritualists—reveal how they established the Church of All Worlds, revitalized Goddess worship, discovered the Gaea Thesis, raised real Unicorns, connected a worldwide community through Green Egg magazine, searched for mermaids in the South Pacific, and founded the influential Grey School of Wizardry.
Join Morning Glory and Oberon as they share the highs and lows of their extraordinary lives, and explore the role they played in shaping the community of Witches and Pagans that thrives in the world today.
Includes a 16-page color photo insert.
Grimoire for the Apprentice Wizard
by Oberon Zell-Ravenheart with the Grey Council
Here is the book Merlin would have given a young Arthur…if only it had existed. This essential "Boy Scout Handbook" of Wizardry contains everything an aspiring Wizard needs to know. It is illustrated with original art by Oberon and friends, as well as hundreds of woodcuts from medieval manuscripts and alchemical texts- – plus, charts, tables, and diagrams.
The book also contains:
Biographies of famous Wizards in history and legend
Detailed descriptions of magickal tools and regalia (with full instructions for making them)
Spells and workings for a better life
Rites and rituals for special occasions
A bestiary of mythical creatures; Systems of divination
The Laws of Magick; Myths and stories of gods and heroes
Lore and legends of the stars and constellations
Instructions for performing amazing illusions, special effects, and many other wonders of the magickal multiverse.
By Oberon Zell-Ravenheart, with contributions and additional material from Raymond Buckland, Patricia Telesco, Raven Grimassi, Ellen Evert Hopman, Jesse Wolf Hardin, Amber K, Fred Lamond, Abbty Willowroot, Jeff McBride, Morning Glory Zell-Ravenheart, and other illustrious members of The Grey Council.
Companion for the Apprentice Wizard
by Oberon Zell-Ravenheart with the Grey School of Wizardry Faculty
Oberon focuses on taking you to the next level by putting those lessons to use with hands-on magickal training.
Inside you will find materials and exercises from the vaults of Oberon's Grey School of Wizardry, and instructions from the faculty.
Step-by-step instructions are provided for:
How to make a Wizard's wand
How to make your own runes
How to make a pocket sundial
How to make and use a firebow
How to make and use your own amulets and talismans
Potions for all purposes
How to conjure illusions and create special effects
And many other amazing projects…
Creating Circles & Ceremonies
by Oberon & Morning Glory Zell-Ravenheart

Creating Circles and Ceremonies is the accumulation of decades of circles, ceremonies, rituals, Mystery plays, initiations, rites of passage, and other magickal workings co-created by the Zell-Ravenhearts, today's foremost Wizard/Witch couple. For more than 30 years, Oberon and Morning Glory have traveled widely throughout the worldwide magickal community—participating in gatherings, conducting workshops, and creating rituals for groups large and small. They have met and made Magick with the leaders of many traditions: Celtic Shamanism, British Dianic, Italian Strega, Welsh Witchcraft, Faerie Trad, Ceremonial Magick, Ozark Druidry, the New Reformed Order of the Golden Dawn (NROOGD), Hinduism, Native American tribes, Greek and Egyptian mythology, and the futuristic Church of All Worlds. Here, in one easy-to-read volume, is their collection of chants, invocations, circle-castings, quarter-callings, spells, and ceremonies. It is also a "kit" to use to assemble your own rituals, for any season or reason: Book I presents a basic ritual outline. Each element is followed by numerous examples which may be "plugged in" to customize your own ceremony. Book II gives numerous examples of actual ceremonies: Esbats (full Moons) and special occasions; Rites of Passage; Mysteries and Initiations; spells and consecrations. These can be adapted and modified as needed for any size group—from small family gatherings in your living room, to huge outdoor celebrations involving thousands of people. Book III provides an assortment of full rituals and ritual elements for celebrations of the eight great seasonal festivals called the Wheel of the Year. Versions of these have been commemorated for millennia in most traditional cultures of the Northern Hemisphere; and today are universal throughout the worldwide Pagan community.
A Wizard's Bestiary
by Oberon Zell-Ravenheart

Strange beasts of all kinds have crawled, run, swam, and flown through humanity's imagination and travelers' tales since the dawn of time. From Gryphons and Unicorns, to Dragons, Mermaids, and even more bizarre and fantastical animals, A Wizard's Bestiary takes you on a magical journey through the ages and around the world, to discover elusive creatures of myth and legend. Beware–here be Monsters! The first section lists over 1,000 fantastic creatures from every land in an encyclopedic, alphabetical glossary format, from Aatxe to Zyphoeus. Each entry includes a small illustration, as well as cross-references to other related beasts.
Next, the authors present more in-depth features on some of more interesting of these legendary beasts, such as the Sea Serpent and the Man-Eating Tree of Madagascar. History, myths, and legends of each creature are presented, with particular emphasis on identifying real-life origins of mythical creatures in actual living animals, such as the link between the Kraken and the giant squid. Expanded cryptozoological entries include the Loch Ness Monster, Bigfoot, Mokele-Mbembe, El Chupacabra, Mothman, and other mystery monsters reported by eyewitnesses but not yet confirmed by science.
A Wizard's Bestiary is profusely illustrated with old woodcuts, engravings, and other images from historical sources, as well as interpretations by modern artists, including the authors. No other bestiary has been so well-illustrated! Hand-drawn medieval-style maps by Oberon Zell-Ravenheart show purported locales of different beasts on all continents and seas.
Green Egg Omelette: An Anthology of Art and Articles from the Legendary Pagan Journal
by Oberon Zell-Ravenheart (Author), Chas Clifton (Foreword), Christopher Penczak (Foreword)
As acknowledged in every history of modern Paganism, the articles, poetry, art, and letters published in Green Egg over the past four decades informed, inspired, and shaped the emerging Pagan community into the fastest-growing religious movement in the English-speaking world. This richly illustrated anthology of favorite writings and artwork from those legendary issues opens a window into the birth, infancy, and adolescence of a transformative cultural revolution that is now, in the 21st century, entering its maturity. Selections from 40 years of Green Egg include articles from numerous contributors, including: Antero Ali, Gareth Bloodwine, Isaac Bonewits, Marion Zimmer Bradley, Raymond Buckland, Phyllis Curott, Ivo Dominguez, LaSara Firefox, Ed Fitch, Jesse Wolf Hardin, Anodea Judith, Timothy Leary, Deborah Lipp, Ralph Metzner, M. Macha Nightmare, Diana Paxson, Gwydion Pendderwen, Starhawk, Robert Anton Wilson, Michael York, and many, many others! Experience the magick, the mystery, the humor and the history as it first appeared–in the pages of the Green Egg.
Read a Review