Tiwesday 12/10/19
This has been a long and busy stretch since my last entry in this Journal. I just haven't had the time to sit and write, as I've been either driving, doing gigs, or visiting with friends. Right now I'm visiting with Jonathan/Jeannie & Amy Jonas, in Gresham, OR, on the SE side of Portland. They moved into this nice suburban neighborhood just a month ago, and are still unpacking. Jon is a serious Lego fanatic (AFOL=Adult Fan of Lego), and a member of the Portland Lego Aficionado Group. The house is full of large totes, bins and boxes full of every kind of Lego imaginable—and some really fantastic Lego constructions—some motorized.
Last night we were invited to a neighbor's for a get-acquainted social. Straight out of "Pleasantville." All very nice, friendly, smiling, straight people; at least some of whom were Mormons. With our non-alcoholic drinks and high-carb hors d'oeuvres, we all took turns introducing ourselves and saying a bit about what we are into. One woman proudly proclaimed that she was a great-great grandmother, with 9 kids and 27 grandchildren! I said I was an author, an artist, and a Wizard—with a School of Wizardry. And that I used to raise Unicorns in the 1980s. They all smiled politely, probably thinking I was crazy. But today the host posted a link to an article about me and my Unicorns, saying:
By the way, as an aside, you'll remember our new neighbors, Jon and Amy Jonas, brought along an out-of-town guest Oberon Zell, who introduced himself as a real wizard and that he had once raised unicorns for the circus. Many of you may have wondered if he was teasing or was he for real.
Well, it turns out he's a celebrity of sorts after actually "creating" a real one-horn (unicorn) animal in the 1980s. You can read the story here: https://www.mentalfloss.com/article/79557/curious-case-ringlings-living-unicorn
So, going back to my last entry:
Saturnday, Nov. 30 was my 77th birthday. My Godson Zack and his lovely lady Brianna took me over to Bodega Bay on the coast for a seafood feast. We had to check out some of the filming locations for the 1963 Hitchcock movie, "The Birds." Synchronistically, I had just watched the movie a few nights before with Gail, Joe & Alessa!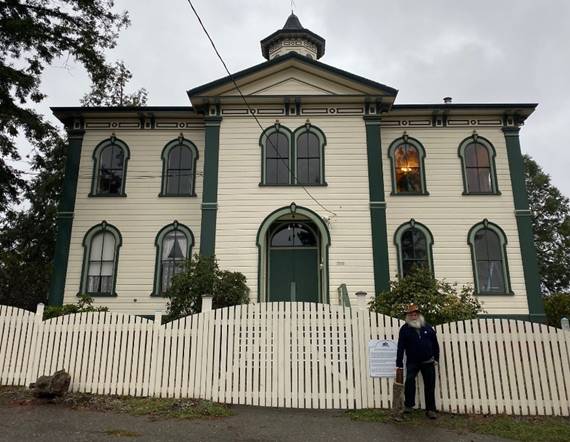 The next day I drove 150 miles up to Redway, CA, to visit my old friend Darryl Cherney. We had met in 1987, at Annwfn, where Darryl conceived the idea of "Redwood Summer in 1990." That was when he and Judi Bari were blown up with a car bomb under the driver's seat of the car Judy was driving. The FBI immediately arrested them, charging them with transporting explosives! Her pelvis destroyed, Judy died a few years later. But Darryl eventually won a lawsuit against the FBI, receiving $4 million in damages. He used the money to produce a fine documentary film, "Who Bombed Judi Bari?"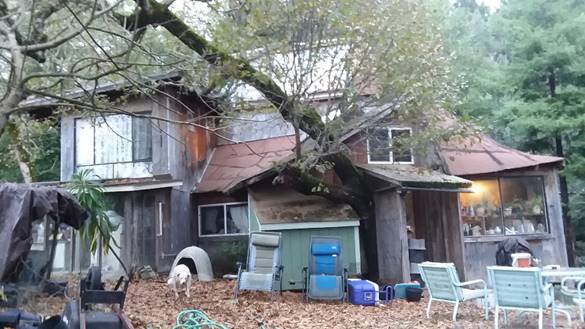 And he bought a nice chunk of land with a crazy hand-built 10-room house on it. His 7-year-old daughter Alli was off with her mother, to be returning the day after I left. Darryl was building a nice outhouse for them, and he asked me to paint a Unicorn on the inside of the door. I'll see her next month as I return that way; I hope she likes it!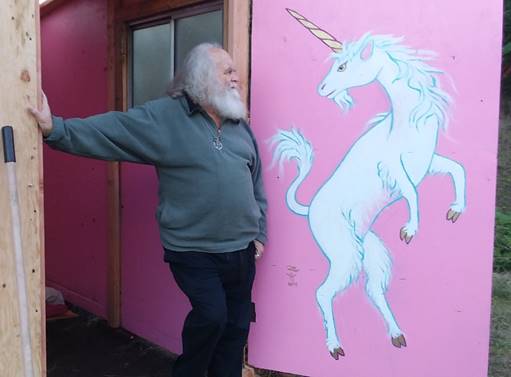 On the 3rd, I drove 5 hours to Central Point, OR, to visit Cat Gina Cole and her husband Mike. We totally hit it off, and I recommended Cat to teach at the Grey School, introducing her to Ambika Devi, our Dean of Faculty, at the GSW Admin meeting on Zoom the next day. Phaedra Bonewits and a couple of members of Cat's coven came for dinner, and we talked late into the night—muchly about Isaac, who we loved and missed. Cat got out her Ouija board, and Phaedra and I tried to use it to contact Isaac. But all we got was gibberish.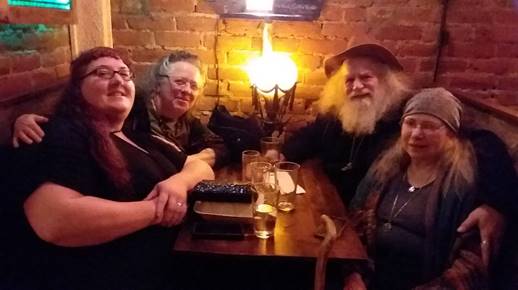 On Thursday the 5th Rose Jacobs and Phaedra joined us for dinner at Oberon's Tavern in Ashland (yes, I showed them my ID; but I couldn't get a free beer). After dinner I went home with Rose to Veneta, OR—another 3-hour drive. She has a large property there, with Pagan neighbors. One of them is Obi-Wan Kenobi, and he looks like my twin!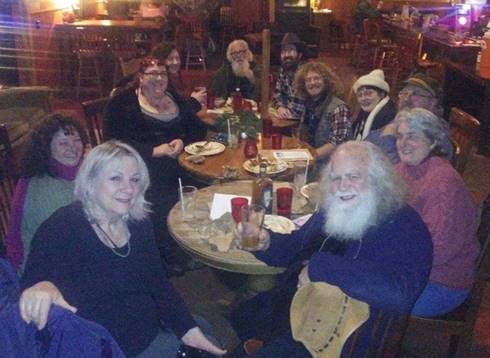 On Friday the 6th Rose had arranged a big dinner gathering at a Pagan-owned tavern called Old Nick's in Eugene. The proprietor, Emily Nyman, joined us at our table. A cool thing they had was a hand-made replica of the Throne of Swords from "Game of Thrones." Of course, I had to sit in it! I think I'm seeing a pattern here—many Pagan groups around the country are patronizing favorite local taverns for "Pagan Night Out" dinners, live music, and other events. How traditional! And what a delightful privilege to be taken to so many of them on my journey!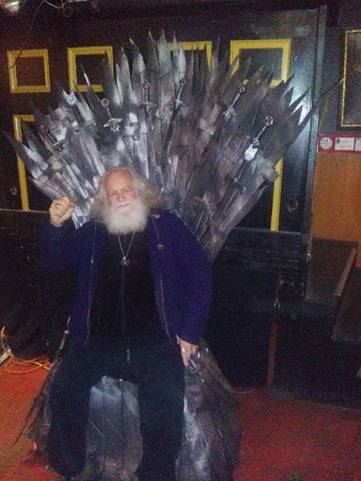 After dinner, a few of us retired to Rose and Dustin's house, where we stayed up late into the night discussing "the whichness of what, and how to unscrew the inscrutable"—as Lance used to say. Among this company were an enthusiastic young man named Buffalo, his friend Bobbie, and Fenwick Kaidevis Rysen—a dear and brilliant old friend from Annwyn. Buffalo gave me a bottle of his homemade apple cider, which we all enjoyed.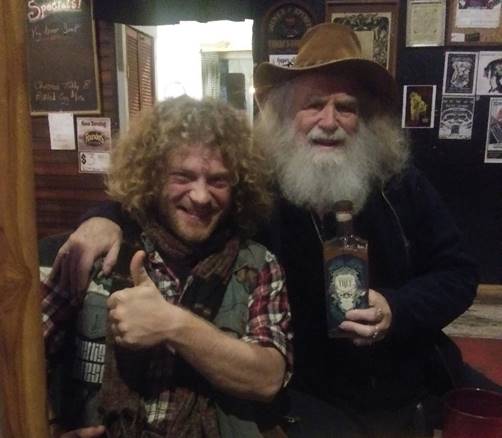 Saturday morning the 6th I drove another two hours to Tigard, OR, for a talk at "If the Broom Fits," owned by Debbie Bailey. A couple of years ago she'd had me up there for a Witches & Wizards High Tea, which was utterly charming.
After the talk, I drove another half hour to visit Jay & Jadzia DeForest, in Oregon City, OR. Jay is my business partner in Mythic Images, and recently completed production of a beautiful 14" version of my Millennial Gaia altar statue. Next we'll be working on a lifesize garden version!
Jay has been adding clothing and mugs to our Mythic Images website in time for holiday shopping. We have a lot more of the other designs to add, but there is a nice selection of Millennial Gaia items already available. https://www.themillennialgaia.com/product-category/clothing/
On Sunday the 8th, Jay had booked a Meet & Greet cocktails/dinner event at McMenamin's Chapel Pub in Portland: A Casual Evening with Oberon Zell. We had a private room for a dozen of us, and we all had a good time.
And Monday the 9th, I drove a short distance to visit Jonathan, Jeannie & Amy Jonas, in Gresham, where I'm now writing this.
For previous Journal entries and more, be sure to check out my personal website: www.OberonZell.com. There are links there where you can buy my books, statues, jewelry, posters and more.
#pagan #wizard #ozpatreon #iampaganandivote #2020visionawakening https://www.themillennialgaia.com/