Thursday, 7/26/18
A lot in the past few days! I'll try to catch up…
Dona and I spent all day Tuesday flying down to Guatemala City, where our host, Carolina, had told us she'd be putting us up for the night at her mother's place. She picked us up at the airport as soon as we'd cleared customs, and took us for a late dinner at a local restaurant Pinche where she knew the people. We got there just minutes before closing. After a delicious dinner Carolina took us to her mom's—which turned out to be a fabulous luxury green hotel—Terra Esperanza—in the middle of town! Our room was one of three on the 7th floor, with a big common sitting room and wide balcony overlooking the city. We were rather blown away, but the best was yet to come…
Yesterday morning we met for breakfast in the hotel's café/restaurant Kardamomuss, with Carolina's mother and sister, both named Lucrecia, and her utterly charming 8-year-old daughter Maia. A beautiful statue of Madre Esperanza graced the center of the restaurant. Esperanza means "hope," which is the major theme of the whole family, and the name of the hotel. The name of the restaurant referenced Cardamon, an incredibly healthy spice locally-produced from seeds that is claimed to be "a panacea for every illness or medical disorder." Dona and I agreed this was probably the best breakfast we'd ever had in our lives!
Carolina's mother told us that the property had originally been a family farm where her husband had grown up. They'd met at the age of 14, married at 18, and had 40 happy years before he died suddenly in front of her of a heart attack, 14 years ago. During their time together, they'd built this amazing "green" hotel/residence/office building, all with local labor and materials.
Lucrecia (the mother) gave us the grand tour, from the swank swimming pool with all-around floor-to-ceiling windows, the well-equipped gym, spa, and healing facilities, to the rooftop garden that could have been a lovely landscaped back yard until you looked beyond the border flowers to the city all round and far below. Several major volcanoes were visible on the horizon, including one called Fuego ("fire") that had famously erupted last month, much like Pompei, sending pyroclastic flows down the slopes that killed a number of people. They were still cleaning up ash from the eruption. A news report said: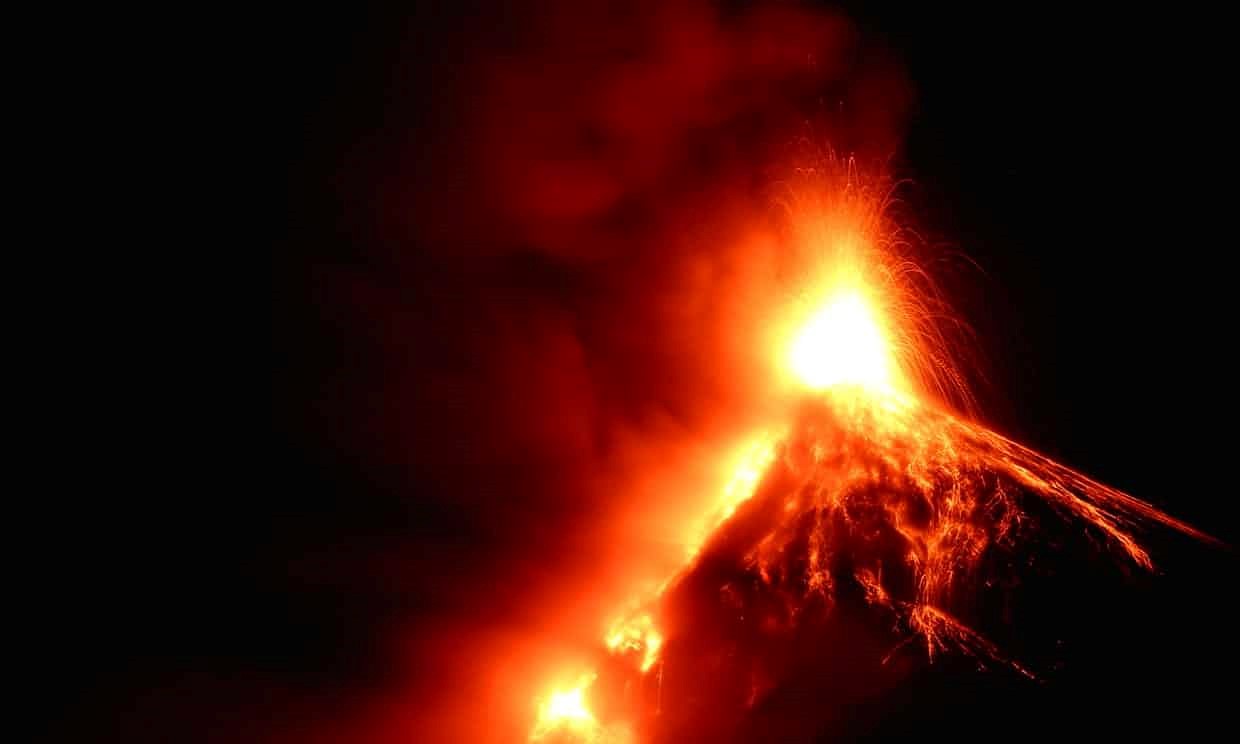 Eruption of Fuego
June 4, 2018: A volcano southwest of Guatemala City has erupted for the second time in five months, sending a deadly plume of super-heated rock and gas into the rural communities below. At least 65 people have been killed, but the death toll is expected to rise.
When the Fuego volcano erupted in February, it produced a one-mile-high plume of ash, but yesterday's eruption was of a different sort. On Sunday afternoon, the 12,346-foot-tall mountain erupted, hurtling a column of ash a full 3.7 miles into the sky. The explosion also triggered a deadly pyroclastic flow—a hot, fast-moving plume of rock and gas—that engulfed farms, streets, cars, and entire homes at the bottom of the southern slope.
The Fuego volcano is located about 25 miles south of Guatemala City. In 2012, the volcano triggered an evacuation of 10,000 residents, and in 2015 it forced an airport closure. This is the deadliest eruption in Guatemala since 1902, when the Santa Maria volcano killed thousands of people.
After the tour of "mom's place," Carolina, Maia, Dona and I ran a few errands around the city, visited an art gallery, and hit the road for the 3-hour drive to Lake Atitlan where we'd be staying at the La KzonA eco-resort. During the ride we were engaged with Maia's wit and intelligence in running word games, mostly between her and me, regarding who (or what) we'd accept as students in my Wizard School. We even had a competition of  wicked laughs and mad cackles, which Maia won hands-down with an uncanny impression of the cackle of the Wicked Witch of the West from The Wizard of Oz. We stopped at a market to pick up food and supplies, where a total stranger named Lily came up to me, saying I reminded her of Jesus, and lamenting to Dona that she wished she could have a boyfriend like me. She gave Carolina her phone number, and invited us to come visit her. Maia said it was good we had tinted windows on the car, or there's be a crowd of women chasing after me!
After harrowing encounters with buses and trucks on the narrow and sometimes unpaved road, we finally arrived at Cerro de Oro, the tiny lakeside village near the resort in Lake Atitlan. Lake Atitlan is a caldera lake and what remains of the original volcano are three semi-dormant volcanoes: Toliman, Atitlan and San Pedro. It was after dark as we were shown the lovely stone cottage right on the lake where we'd be staying. Carolina even set us up with WiFi so we could do email, FB, and catch up on Rachel Maddow and Steven Colbert.
This morning I made omelets, we took a wade in the clear lake, and I caught up on my email, FB, and writing this journal. Carolina picked us up around 1:00 to take us to the little farm in Santiago where she, Maia, and her husband David live. Dave is back in the States this month, and Carolina had to supervise the avocado harvest, but Maia proudly showed us all around, introducing us to her horses, ducks, dogs and peacocks—and to her father's beautiful free-form sculpted and painted adobe that comprise their rooms, temple, and other structures.
Afterwards we stopped at the market in Santiago to get a few items, and then we climbed aboard one of the two main forms of public transportation: a pick-up truck (flete) with high sides around the bed where people stood all packed together and hung on for dear life. Although this is supposed to be the rainy season here, it hasn't rained yet all summer, and isn't expected to during our stay. But on the way, a sudden downpour would have drenched us, but the driver tossed up a big blue tarp, which I caught (being in the front left corner of the bed), and everyone spread over us all. We got off at the Charismatic Catholic Church Carolina had shown us earlier, and her guardian/groundskeeper Manuel met us and walked us home.
And so ends our first day at Lake Atitlan…