Friday 8/17/18
Today is our last day at mystic Lake Atitlan. This morning we're packing up, and Carolina will be picking us up around 2:pm to take us to Antigua—the next leg of our Guatemala sojourn. After a weekend in Antigua, we'll head over to Guatemala City, stay at "Mom's Place"—Terra Esperanza—and catch our flight back to Austin on Tuesday.
The last couple of days have been amazing! I've been impeded a bit by sore ribs and an aching back from getting knocked off that horse, but I can't let a little thing like that slow me down! Besides, Carolina told me that horse had thrown both her and Maia a few times too, so I don't feel so bad. And I do appreciate all the love and healing that so many folks have poured out to me via FaceBook. Thank you!
Thursday morning we caught the 10:am boat from Cerro across the lake to Pana, had a light lunch, and then took a tuctuc to the Natural Reserve, where signs with silhouette icons and arrows pointed the directions to the various things to see: campground, flutterbys, playground, coatis, waterfalls, monkeys, Nessie and Yeti… Ri-i-ght. We took the trail to the Mariposa (flutterby) garden in a big geodesic dome. Beautiful flowers and even more beautiful tropical flutterbys competed for attention, and we took photos of as many as would hold still long enough. The zebras, monarchs and others were quite cooperative, but the legendary iridescent blue morphos (commonly regarded as the most beautiful flutterbys on Earth), were total teases, flying right around us, but never landing for more than a few seconds, and then with their wings folded so only the dull underneath was visible. Between us, after many attempts, we did manage to catch a few pics…
After the flutterbys, we climbed on up the canyon over hanging bridges across small waterfalls to the monkey observation platform, where we did see a few spider monkeys high in the trees. Then we decided we were ready for the zip lines.
There were two options for zip-lines: one involved a few very long rides down the canyon for nearly a kilometer (.6214 miles). The other option involved a series of eight shorter cables zig-zagging back and forth across the canyon. We opted for the latter, and we got ourselves all outfitted up with parachute harnesses, helmets, cable tows and pulleys. What we hadn't considered was the long steep climb up to above the spectacular high waterfall at the top of the canyon. Dona is really not a climber, and after my fall off the horse last Saturday, I also found it a struggle. The first part of the climb took us back to the monkey observation platform, where the guides brought bananas to entice the monkeys down from the treetops, along with a coati-mundi. That was fun.
It took us a while to reach the top of the trail to the highest cable platform. We had two guides—one to go in front, and one to follow us. The first hooked himself to the cable and flew off. Dona went next, I followed her, and Carlos (who spoke a bit of English, and was very solicitous) followed me. There's nothing quite like the rush (OK, maybe sky-diving, bungee-jumping and hang-gliding…of which I've done the latter two…) of flying high above a jungle canyon hanging from a tiny cable! Eight times we did this, returning finally to the visitor center where we started. I loved it, but Dona didn't have such a good time, unfortunately. The climb really did her in, and on top of that, the harness under her butt was twisted and quite uncomfortable; evidently Carlos was shy about adjusting it properly between her legs.
After the Natural Reserve, we took a tuctuc back to the dock in Pana and caught the next boat to San Marcos, where we were to meet up with Nadia Petrova, who would be hosting us for the evening. Unfortunately, we accidentally got off in Tzununa, where we had to wait a half hour for the next boat to San Marcos. Nadia met us there and took us to a Japanese restaurant, Alalla, where it was weekly sushi night buffet, with heartful live music, including Sweet Honey In The Rock's "Listen more often to things than to beings;" a song that Morning Glory used to sing often. Nadia's ex-husband, Mark Elmy, met us there, and we were shortly joined as well by Baba John Bushe, who keeps showing up unplanned and unexpected. How does he do that? As I mentioned previously, San Marcos really is "Syncroni-City"! John showed off his newest tattoo, after previously getting my Astra Star Goddess on the inside of his left forearm. Now he had my jewelry design of Cernunnos on the inside of his right forearm! Wow—what an honor!
After dinner we took a tuctuc to Nadia's beautiful home atop a huge rock overlooking the Lake. Like everyone else we've met around the Lake, Nadia possesses astounding knowledge in her areas of interest and expertise, which in her case involves healing herbs, ointments and unguents, lotions and potions, crystals, medicines, food, massage, and sacred geometry. She truly is the village witch doctor! Born in Bulgaria, she spent her 20's in Paris before coming to San Marcos over 30 years ago.
We had an amazing evening with Nadia and Mark, who is a Mayan Astrologer, and he gave Dona and me detailed and uncanny analyses of our lives and purposes based on the Mayan correspondences of our birthdates. It reinforced from a different perspective what Nirguna had told me earlier about my mission at this crucial turning point in my life. We talked long into the night, about the whichness of what, and how to unscrew the inscrutable. Mark is from England, and was initially trained in a Druidic group over there. It turned out we know a few people in common—as seems often to be the case in our travels. After Mark left, Nadia gave my back and ribs a treatment and adjustment, and showed us to our lovely B&B apartment with a balcony overlooking the lake and the three giant volcanoes on the other side.
Thursday morning I awoke in time to take a photo of a lovely golden dawn over the lake. A bit later, Nadia fixed us all a huge breakfast, and we walked along the beach over to Mark's place, where he conducted a Mayan ceremony of gratitude for the day, called 1 K'at on the Mayan Calendar. About 17 people attended the 3-hour ritual, and it was truly beautiful, invoking all 20 Nahuals, each in their 13 aspects, with offerings of gratitude to all. Many aspects and elements of the ceremony were familiar to me from my own experiences with traditional Pagan rituals from many cultures. So much of these "ancient ways" are universal—the central altar or fire; homage to the Four Directions; the Great Above, the Great Below, and the Center; and always, in whatever language, Mother Earth.
Here's a bit of Mark's description of this day on the Mayan calendar—from his website: https://thefourpillars.net/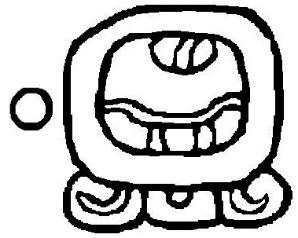 Whilst K'at does represent the net which gathers the harvest, it also has an association with what it contains, the seeds. Here, on the day 1 K'at, we see the new seed planted for the next harvest.
In the cycle of re-creation, the soil of the field has been turned and the tilled, infused and fertilised by the wisdom of the ancients. The threads of creation are being gathered ready to join the new to the old on the day Wajxakib B'atz.
The energy of 1 K'at can be seen as being about gathering together and embracing the new time. Life is a continual cycle of birth, death and rebirth. We have the possibility to reap an abundant harvest, but right now in order to do that we need unity. It is time to put aside differences and work together to plant the new field if we are to enjoy abundance on the future.
K'at signifies a net and represents gathering together or bundling. Here, in the Western Highlands of Guatemala, to this day many crops are harvested and carried in nets – oranges, lemons, avocados to name but a few. Through this we see one of the positive meanings of this nawal, that of abundance and harvest. K'at is a great day to draw things together, whether this means gathering in your crops, collecting ideas and opinions for your projects, or inviting people to a social event. It is a day of prosperity and the bounty which comes from the Earth, a day of gardeners, but also of merchants.
Carolina showed up for the ceremony, and afterwards we went back into San Marcos for lunch at Marybel's restaurant, Samsara. Like all the restaurants we've enjoyed in San Marcos, the floor is a landscaped garden with paths and little patios where chairs and tables are placed here and there. Above are canopies and awnings, and walls are open all around. Polite and well-mannered dogs wander in and out, unattached to any human owners. Marybel joined us at our table; she'd just been leaving, but a serendipitous phone call delayed her 'til we arrived. The news was that she'd been approved for the house she was trying to buy! She plans to expand Samsara, and add a drink stand for her shaved-ice fruit delights as well as a place where Joe can offer his awesome VR experiences to paying customers. I think that could be huge!
Down at the dock, we separated—Carolina to head back to Santaigo, and us to return to Cerro by way of Pana. And now we're packing to leave for Antigua. We will carry with us forever our fond memories of Lake Atitlan and all the beautiful and magickal people we've met here!