OZ's Walkabout Journal
Viernes (Freyaday) 9/5/19
Dona and I are currently in Cuenca, "Ecuador's most important and beautiful colonial city. Dating from the 16th century, Cuenca's historic center is a Unesco World Heritage Site."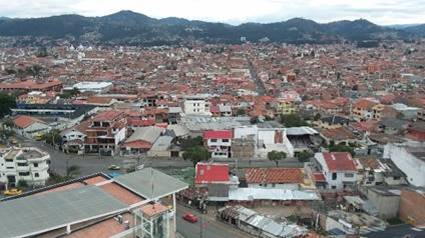 When the Spanish arrived in the 1540s, they encountered the ruins of a great but short-lived Incan city called Tomebamba ("Valley of the Sun"). The Spanish eagerly dismantled what was left of it, incorporating the elegantly carved Inca stones into their own churches and other structures. Before the Inca, the indigenous Canari people had lived in the area for perhaps 3,000 years. They too had a city here, called Quanpondelig ("Plain as Big as the Sky").
Miercoles (Wodensday) Aug. 28 was Alaura's 70th birthday, and she and Dickson threw a spectacular birthday party at his place, with dozens of friends attending. There was an open bar, and a couple of tables full of pot-luck yummies. There was live music all afternoon and evening with two different professional performers, both of whom were superb.
Dickson and Alaura turned us on to a remarkable substance called "Panacea C60 [carbon 60]," composed of nanocarbon "Buckyballs." It seems to be appropriately named, and we've been applying it to everything from nasty "no-see-um" bug bits to skin spots, all of which have gone away. Here's an excerpt from a research paper:
Soluble NCMs [nanocarbon materials] have been shown to possess activity against cancer (e.g., breast cancer), tumours, arthritis, HIV-AIDS, influenzas, etc. There are even reports of their possible use … for treatment of Alzheimer's disease. The poster boy fullerene derivative, C3-tris malonic acid possesses activity against Parkinson's disease in mice. A recent patent documents their use as antioxidants, as these are Radical Oxygen Scavengers (ROS)… Is it true that water soluble NCMs are a panacea for all diseases? Though recent work seems to suggest this to be true, such claims need to be carefully evaluated.
"Water soluble nanocarbon materials: a panacea for all?" Current Science, Vol.114, No. 9, 10 May 2018 https://www.currentscience.ac.in/Volumes/114/09/1846.pdf
Their brochure says C60 is "a powerful antioxidant 172 times more potent than Vitamin C." It's touted as "a catalytic free radical scavenger; protects liver from toxins; anti-viral; inhibits build-up of arterial plaque; rejuvenates organs; stimulates glutathione production in the liver; regrows/lengthens telomeres; reverses the aging process; detoxes free radicals, heavy metals, pesticides and radiation…"
C60 is available from Red Lion Pharmaceutical Labs: https://c60redlion.com/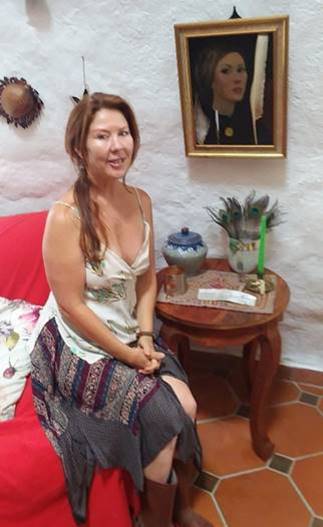 On Jueves (Thorsday) the 29th we had a lovely visit with artist Anna Elizabeth de Castro and her shaman husband, Miguel Castro. He's of the Mapoche tribe in Chile, while Anna's sultry accent conveys her North Carolina origin, and her high cheek bones attest to her Seminole ancestry. Anna gave us a full tour of their paradisal home and gardens, which they had built in only a few years. Anna's house designs were amazing—white beehive-like domed structures (she's a beekeeper) of adobe with beautiful hobbit-like interiors.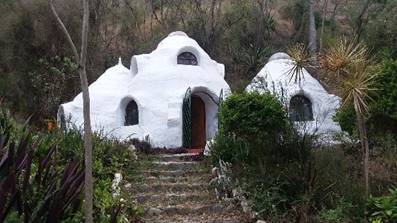 Likewise amazing were her gardens of exotic flowers, fruits, vegetables—and a stone labyrinth. We talked—as I so often do, especially with shamans—of these dark times, and the coming Awakening. As always, we found ourselves in complete agreement: the Old Order must crumble into dust before the new one can emerge, like a Phoenix, from the ashes. But the seeds of the new are already planted, and growing…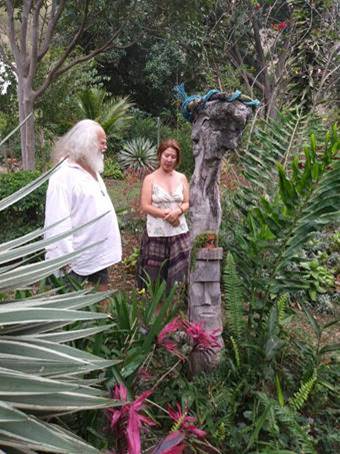 Viernes (Freyaday) morning the 30th we took a 7:30am van from Vilacabamba to Cuenca. It was a 4.5 hr. drive winding through spectacular mountains, deep canyons and valleys, with small villages and isolated farms along the way. We arrived in Cuenca about noon, planning to stay at Mi Casa Hostel, but our host, Gary Kissel, hadn't given us the address. Dona and I each tried to phone and text Gary many times, but no answer.
We looked up Mi Casa on GoogleMaps, and took a taxi to that address, but no Mi Casa. Yellow taxis are everywhere, and really cheap. All you have to do is stick out your hand, and a taxi will pull up within moments. We drove all over town for two hours, and ended up back at the same place, a nice little Hostel called Mochiliers. By that time we were so frustrated, tired of lugging our bags around, and not hearing from Gary, that we just checked in for the night.
We had a lovely dinner and evening, but in the night Dona was hit hard by altitude sickness (Cuenca is at 8,400 feet!). She couldn't breathe, couldn't sleep, had chest pains, and was pretty panicked. She wanted to leave immediately and get down to a lower altitude.
I have a CPAP breathing machine for sleep apnea, and I let her use it until she fell asleep. In the morning she seemed a bit better. We looked up "altitude sickness" in our Ecuador guidebook, which says it goes away in a day or two, and recommends cocoa leaf tea. I recall that we used that in Peru in 1990.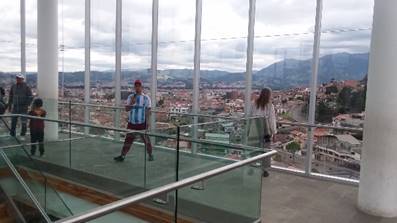 Sabado (Saturnday) we took a taxi to Gary's Mi Casa Hostel at 1321 Estevez de Toral—which is a lovely place with a large common area, including courtyard and kitchen. Gary is great, and we all hit it off immediately. He gave coca leaf tea to Donna, and she's been much better since. He'd put together a book showing all the things to do in Cuenca, so that afternoon we walked up the street to Parque la Libertad, the old prison. We took the glass elevator to the top of the 138 ft. tall Mirador (viewing tower), which offers a 360° view of the Historic Center and the northern part of the vast city. We noticed that very few buildings are more than three stories tall.
After the Mirador we took a taxi to the Pumapungo museum. It was very disappointing, in that the displays of Ecuadorian artifacts were just in glass cases with no explanatory labels, and there were no English translations of anything. There were some nice little model dioramas, and the upper floor was filled with full-size native village scenes with realistic mannikins. One room contained a number of rare and eerie tzantzas (shrunken heads) from the Shuar culture of southern Oriente.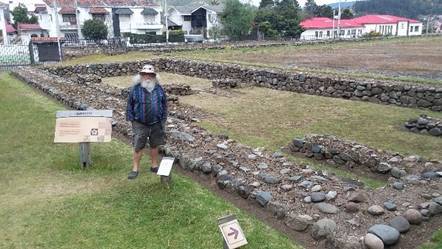 Outside was an Archaeological Park featuring some foundational remnants of the old Inca city the Spaniards had conquered in 1584. A large circular aviary had a number of local birds—including the grey Mexican eagles. The door to the interior was locked, and a cat was sitting right in front of it. She turned to us and plainly asked us to open the door and let her in, as there were birdies inside!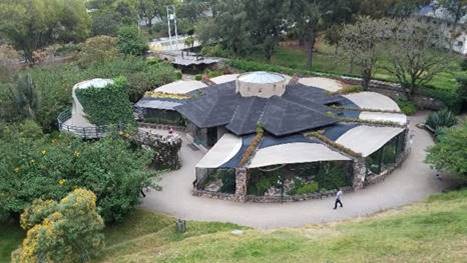 Domingo (Sunday) evening was our monthly CAW (Church of All Worlds) Board meeting via Zoom. We currently have Board members in the US, Thailand, and Ecuador—truly an international church! These are exciting times as we turn more and more to our younger Clergy to carry the CAW Vision into the New Age. The meeting lasted three hours, and was often contentious, but in the end everything was resolved elegantly to cheers and whoop-de-doos.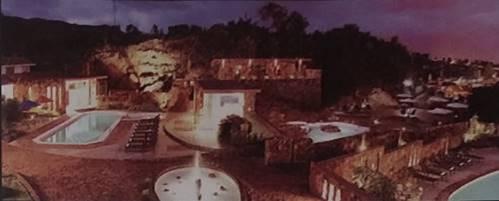 On Lunes (Moonday) the 2nd, we took a bus to Piedra de Agua hot springs spa in Los Banos ("The Baths"), five miles SW of Cuenca. The volcanically-heated waters flow from a fault ("Loma de los Hervideros") at 70° C (158° F), and are then cooled variously for the different pools, some of which are underground in caves. Lunes was a 2-for-1 day, so we got the whole treatment: mud baths (red & blue), box saunas, hot and cold pools, and finally, a large shallow chalky-white mineral pool. We got into nice conversations with our fellow bathers, who come from all over the world to these famous baths.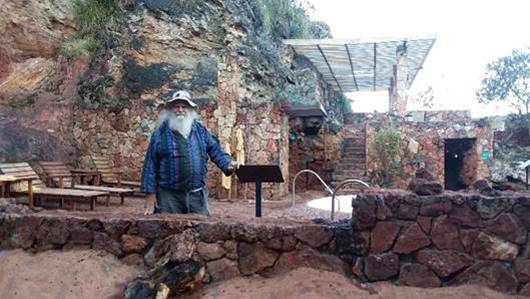 That evening we went down the street for the best pizza either of us have ever had. The New York Italian owner, Robert VasSalli, visited with us while his lovely Ecuadorian wife baked the pizza. A wonderful man with a compelling life story, he was suffering from Lou Gehrig's disease, and was closing the place the next day; we were his final customers.
On Martes (Tiwesday) the 3rd, we went to the Tame Airline agency to get our return flight this coming Sabado (Saturnday) changed from Lojas to Cuenco. The agency was right at the Parque de la Madre ("Park of the Mother"), where there was a planetarium, advertising shows every hour on the hour. We were too late for the current hour, so we decided to walk across the bridge over the pretty Tomebamba River that runs through the city, and up the 88-step staircase to check out the little Museo De La Culturas Aborigines.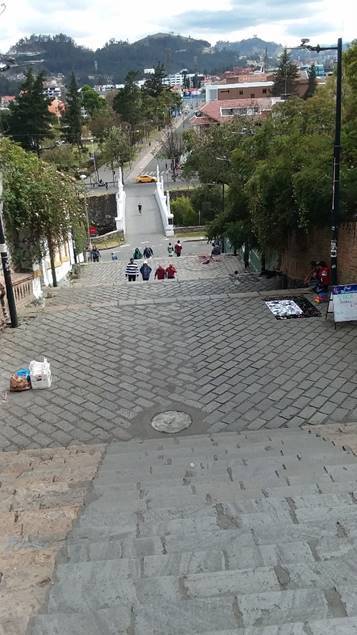 This Museum was really hard to find—we had to knock on a locked door to be admitted by a nice lady, who took us through the restaurant in front, gave us a guidebook (in English), and showed us a staircase to the large upper level. Wow! It was amazing! More than 5,000 archaeological pieces representing more than 20 pre-Hispanic Ecuadorian cultures going back some 15,000 years.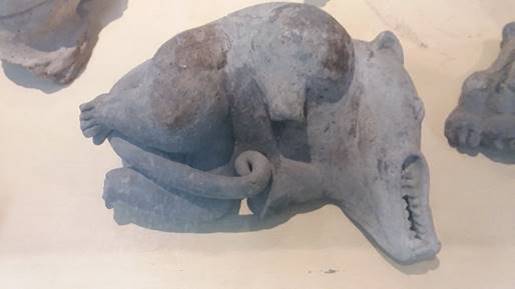 We were so enthralled by this vast collection, and reading all about the artifacts in different rooms, that we missed the next (and last) scheduled planetarium show. But out in front we noticed a sign that advertised a Pink Floyd "Dark Side of the Moon" show! So when we got back to Mi Casa, we made plans with Gary to all catch the 2:00 show the next day.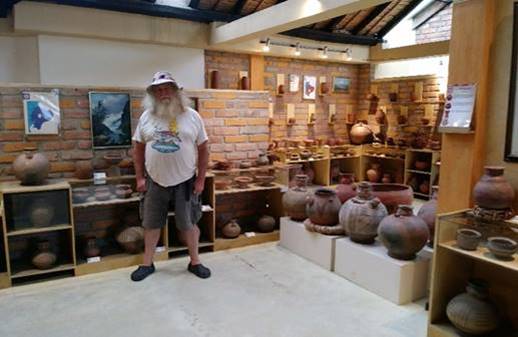 Miercoles (Wodensday) evening at 6:30 we'd scheduled a "Meet the Wizard" event at Mi Casa, so Dona, Gary and I took a taxi back to the Planetarium early to catch the 2:00 show—with our attitudes all properly adjusted. We were the only customers, and the guard said there needed to be at least ten to do the show. While we waited anxiously, seven more people showed up, so it looked like we were good to go.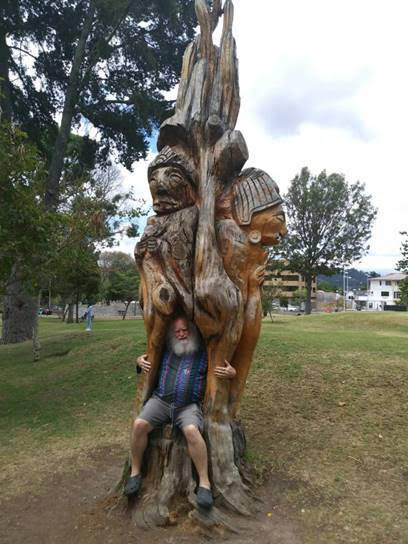 But just at 2:00, another person came in and informed us all that the projector was down, and there could be no shows that day. Disappointed, we looked wistfully at the "Dark Side of the Moon" poster, and realized that it was actually advertising a one-time special free showing at 5:00 the following day! We were told, however, that it would be very popular, there is seating for only 84 people, and we should get there by 3:00 to get in line or we'd never get in. So we resolved to come back the next day.
We walked back through the park, where several dead trees had been artfully carved into strange figures. Then we hiked up the 88 stairs to check out the little Carolina Bookstore, to talk about them carrying my books. Their sections were indicated by murals, and I loved the one of Cthulhu for the horror, sci-fi & fantasy isle.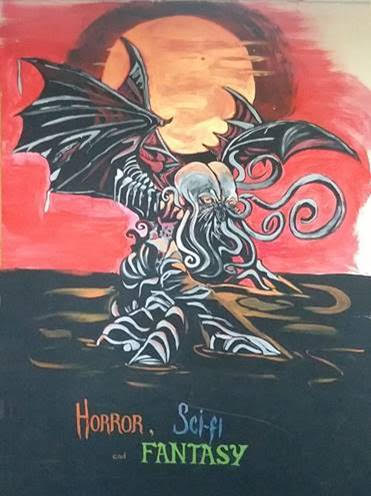 Nobody showed up for the "Meet the Wizard" event, so Dona just took us all out to dinner at Full Criolo, a Venezualan restaurant a few blocks away that Gary liked.
Jueves (Thorsday) Gary had a Spanish lesson with a charming girl named Michelle. I sat in and got some lessons as well, until it was time for Dona and me (Gary couldn't cut loose) to grab a taxi to get back to the Planetarium by 3:00pm to get in line to see the "Dark Side of the Moon" show. There were already about 50 people (mostly all college-age) in line ahead of us, and as we waited, more people kept coming until the line stretched all through the park. Finally a lady came through and handed out tickets to the first 84 people in line.
We got in, got seated, and looked forward to what I remember from 45 years ago in St Louis as the most amazing planetarium show ever! First, the stars would come out slowly, rotating majestically around the North Star, as the music began. Then, with the initial crescendo, the lasers would begin tracing unearthly color-shifting shapes across the starfield as the music swelled, moving around us in circular stereo…
Well, that's what I expected, anyway. But the lights were turned off, we were in total darkness, the music came on…and that's all.. No stars, no laser light show. Just Pink Floyd in the darkness. We could have gotten the same result at home with a sleep mask and stereo headphones.. But everyone clapped at the end, obviously not knowing what they were missing, and on the way out, the lady asked how we liked it. I could only respond with disappointment at there being no light show; after all, that was the whole point of having it in a planetarium!
Domino (Sunday) evening we'll be catching our plane back to Austin; bidding farewell to exotic Ecuador!
For previous Journal entries and more, be sure to check out my personal website: www.OberonZell.com
#pagan #roadtrip #wizard #bucketlist #adventure #ozpatreon #iampaganandivote