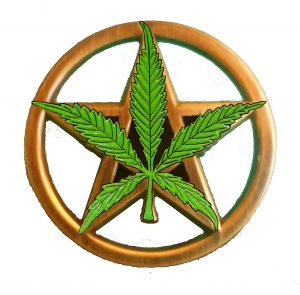 Greenleaf Pentagram
© 2019 by Oberon Zell
Last fall, passing through California on my Walkabout, I visited some friends just as they were harvesting their first planting of Cannabis. Once weed had been legalized in Califia, they'd been eager to put a small crop in the ground, and they had proudly shown me the several plants in their little backyard garden when I'd stopped by a few months earlier.
So the dining room table was covered in greenery, and we were all sitting around with tiny scissors trimming the buds. The leaves were pretty much a by-product (though ground up, they make great seasoning for spaghetti, pizza, etc.—like oregano, but better). I held up a particularly beautiful leaf, with five petals (seven is more common), and quoted from a well-known Wiccan
invocation by Aidan Kelly about the magickal "Five-Fold Leaf of Power:"
Greet the Moon at the Witching Hour
And honor the five-fold Leaf of Power.
Noting the pentagram I always wear around my neck, the lady of the house said, "You design jewelry; why don't you create a pentagram based on a marijuana leaf? I know I'd want one!" Well, maybe it was because we were all stoned, but that seemed like a great idea! I did a little research, looking up any such design via Google Images, and I didn't find anything close. So I went to my drawing board and created the "Greenleaf Pentagram." I sent the design to my jewelry manufacturer, Peter Stone Co. in Thailand, and it is now available as a silver pendant, with or without the leaf enameled in green. You can order from: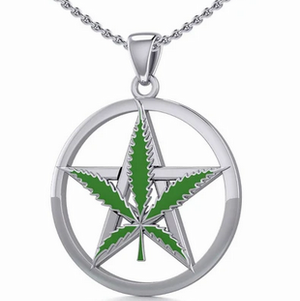 I also arranged with Zazzle for the design to appear on a wide variety of items, from T-shirts to mugs, so check them out at: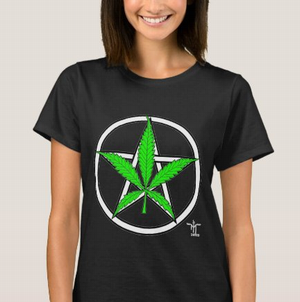 The Greenleaf Pentagram combines two iconic symbols of modern Magick: the ancient Pentagram of the Pythagorean Mysteries, representing the 5 Elements: Earth, Water, Air, Fire and Spirit. And the mystic herb of enlightenment that awakens the mind and heals the body.